| | |
| --- | --- |
| | |
N21-R032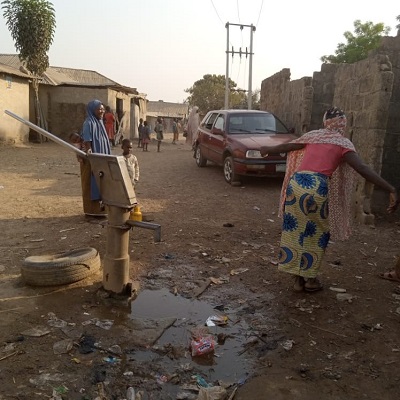 Old Water Source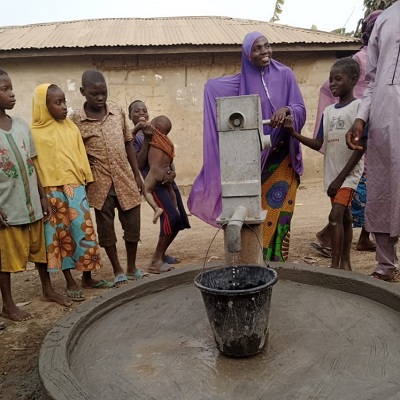 Children and new pump
Lifewater crew at work
The people of Deshi I, Nigeria thank

The legacy of John Ellis (West Vancouver, BC)
The Water Team (Vancouver, BC)
For helping them replace their worn-out pump and repair their well
Latitude: 8.992893 Longitude: 7.036116
Open map
Testimonial
Sir, the members of Deshi Paiko Kore are happy and appreciate you for the action that you took towards the two boreholes. As of today, everything has been fixed to the way it should be and the two boreholes are working normal. I pray to let it be this way until no date. Once again, our community says thank you and God bless you.
As a youth chairman, I say thank you.
Project Summary
Two wells were repaired in this community. The youth leader, Bello had written a letter seeking our help. They complained of the open source used by humans and animals (very contaminated) which is drying up during this dry season. At some point (March-April), they will have to dig holes in the drying riverbed to get water. Our timely intervention, saves the community the suffering of walking to the water collection points and the dangers of unclean water supplies.
Well Details
| | |
| --- | --- |
| Project Completed: 2021-02-21 | Well Depth: 80 ft. |
| Depth of Water: 45.00 ft. | Casing Diameter: 0.00 in. |
| Screen Length: 0.00 ft. | Developed By: |
| Development Time: | Well Yield: 8.00 gpm |
| Disinfection: | Handpump: Afridev |
| Water Colour: Clear | Water Odour: None |
| Turbidity: Clear | Taste: Good |
| Nitrate: | Bacti Test: |
| Iron: | pH: |

Every $1 you give provides a child with safe water for a year!
457 Heather Crescent
Thunder Bay, ON P7E 5L1
Canada
Tel:
+1 807-622-4848
Email:
info@lifewater.ca

Copyright © 2021. All rights reserved.