Janet and Stan Roy of Thunder Bay, ON, became deeply aware of the precious value of safe, accessible water while they were living in an impoverished South Pacific nation during the 1980s.
"While in Samoa, we came to understand the challenges of living in a Third World country, including having to boil our drinking water," Janet says. "We have seen the effects of unsafe drinking water and waterborne diseases such as dysentery and dengue fever."
(Experts say someone – usually a child – is dying every 20 seconds in the developing world from diarrheal diseases caused by dirty water and inadequate sanitation.)
And so a few years later, after Janet and Stan had moved to Thunder Bay, they were very interested when they met Lifewater president Jim Gehrels and began learning about the organization he'd founded to drill wells and provide safe water in Africa and Haiti.
"Through our friendship, Lifewater became our passion," Janet says.
The couple has provided vital financial support. Stan also served for many years on Lifewater's board of directors, including several as Treasurer, while Janet has volunteered in various ways including with Lynda Gehrels (now Lifewater's president after Jim's death in July 2020) on a trip to Liberia.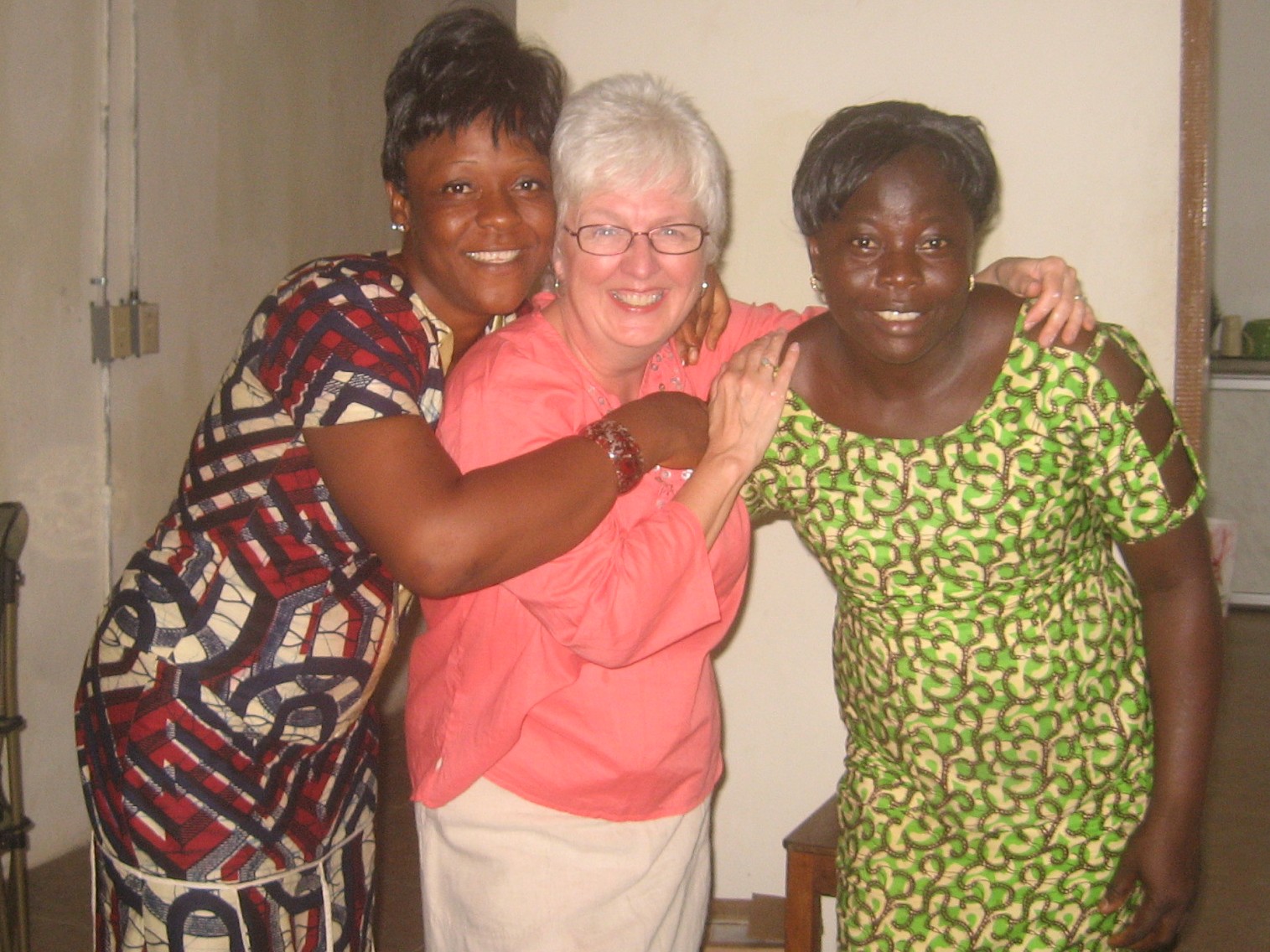 Janet with members of the local Lifewater health and hygiene training team in Liberia
Janet and Lynda travelled there in 2011 with five young B.C. men who, two years earlier, had run 420 kilometers to raise money for Lifewater in memory of close friend Arno Ekkert who'd died in a car accident before fulfilling his wish to go to Africa and help people there. The five men were able to visit new wells their fundraising had paid for, and to dedicate one of the wells to Arno.
"I went (to Liberia) as Lynda's assistant, taking care of everyday needs such as meal preparation for the team," Janet recalls. "I also accompanied our community education team to a village where they conducted workshops to prevent the spread of diseases by teaching hand-washing and sanitation."
Janet also rolled up her sleeves and helped paint the kitchen in the special compound where Lifewater's drilling equipment, spare parts, and staff/volunteer accommodations are housed. "And I had the honour of dedicating a well on behalf of our New Life Christian Fellowship congregation (in Thunder Bay)."
Why have Janet and Stan invested so much in Lifewater over the years?
"Because Lifewater is unique in many ways," she says. "It is not just about the big corporate donors, God bless them, but about everyone's donations making a difference. I've been to birthday parties where donations for Lifewater were collected instead of giving gifts. Lifewater is run mainly by volunteers, many I have come to know and trust, so I know that my money is getting to the people who need it."
Please make a donation to safe, accessible water today.