Governor General's award for two former Ontario MECP (Ministry of Environment, Conservation & Parks) staff for co-founding Lifewater
March 16, 2021
By Michelle McChristie in "Inside OPS," a news website for Ontario Public Service employees
At first, Glenn Stronks, a retired Ministry of Environment, Conservation and Parks (MECP) investigator, thought it was spam.
It was an email he received last December. It stated that he and his longtime friend and colleague, the late Jim Gehrels, had been selected for a Governor General of Canada medal.
Glenn and Jim, a former MECP hydrogeologist who passed away unexpectedly in 2020, are being recognized for their work with Lifewater Canada. This charity provides safe drinking water and improves hygiene in Haiti, Liberia, Kenya and Nigeria.
Glenn and Jim's work began in Liberia in 1994. They combined their knowledge and skills — Jim's as a hydrogeologist and Glenn's as a former teacher — to teach locals how to drill and maintain wells to provide safe drinking water.
"We wrote a manual on well drilling and prepared lesson plans on large sheets of paper," says Glenn. "I started with the basics of groundwater, and then moved on to explain tasks between the classroom and the field".
Their train-the trainer approach builds local capacity and Lifewater's financial support ensures the work continues. To date, Lifewater has created more than 1,725 wells, providing over 2.5 million people with access to safe drinking water. It's a remarkable achievement given the challenging working conditions they face. They've navigated war-torn countries without cellphones or GPS directions, and worked in the current pandemic.
According to the Governor General's website, "the meritorious service decorations recognize great Canadians for exceptional deeds" and "were established to recognize remarkable contributions in many different fields of endeavor."
For Jim's wife Lynda, it's a testimony to Jim's commitment to helping those in need. "One of Jim's sayings was that 'one person can't do everything, but one person can influence others to make a change around the world'," she recalls.
For Glenn, it's a prestigious honour, especially when it comes with the privilege of participating in citizenship ceremonies held across Canada. "The only thing that makes me sad is that I can't share it with Jim," he says.
Reflections on World Water Day
March 22 is World Water Day, a day the United Nations observes to highlight the importance of freshwater. On that date, please think about what water means to you and how we can better protect this vital resource.
Glenn offered his thoughts, "In Canada, we take freshwater for granted. World Water Day is a chance for people to think about where their water comes from and to remember that people in other countries are less fortunate."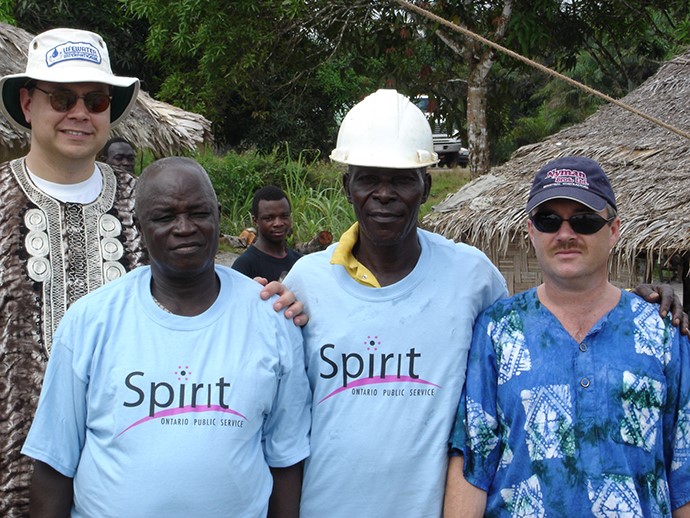 Jim Gehrels, David Walo, Henry Yogi, and Glenn Stronks during a training session in Liberia in 2005