N12-L005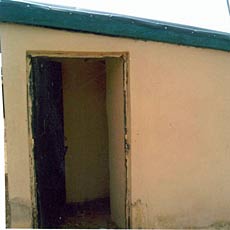 New Latrine
New Latrine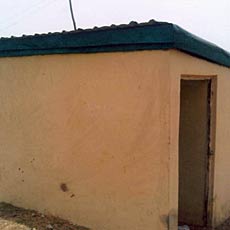 Side view of New Latrine
The People of Lomi Village, Nigeria, thank

City of Barrie - Water Operations Branch (Barrie, ON)
For helping them build a community washroom
Testimonial
Dear Sirs: We wish to thank all of you for the public toilet you did here in Lomi, Bauchi State. Since our meeting in Damaturu last year, you have kept your promise to help this village for which I am grateful. May God bless you. Now our people can use the toilet to ease themselves when visiting the market or the local village school. Thank you very much, Alhaji Yunusa Danzariya. Concerned Lomi native.
Project Summary
Lomi is next to a major highway leading from Alkaleri to Gombe. Very dry and remote part of State. Washroom located near a primary school east of the village market.

Every $1 you give provides a child with safe water for a year!
457 Heather Crescent
Thunder Bay, ON P7E 5L1
Canada
Tel:
+1 807-622-4848
Email:
info@lifewater.ca

Copyright © 2018. All rights reserved.