| | |
| --- | --- |
| | |
N11-L003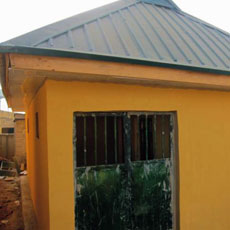 Completed Washroom
The People of Ayenayaje Primary School, Nigeria, thank

Cathy Wirick (Toronto, ON)
Greg Hobson (King City, ON)
For helping them build a community washroom
Testimonial
Appreciation: On behalf of the staff and children of Ayenayaje primary school, I wish to express our profound gratitude to your group for agreeing to partner with us for the drilling of a well and the building of a toilet for our school. Our school kids can now ease themselves in safe and clean toilets instead of going to the back of the buildings. Thanks to all your workers who came here with no one available to assist them during their work in such a short notice. Everyone here will be happy when school resumes next month. We look forward to working with you further in the future. Thank you. Mrs Mercy Adigu Ayenayaje School Facilities Coordinator
Project Summary
This washroom is in a primary school within the general satellite townships of the Abuja area. There are specifications for washrooms within the schools in the area and we had to use more materials and sizes differed from those we build in the rural areas.

Every $1 you give provides a child with safe water for a year!
457 Heather Crescent
Thunder Bay, ON P7E 5L1
Canada
Tel:
+1 807-622-4848
Email:
info@lifewater.ca

Copyright © 2018. All rights reserved.