| | |
| --- | --- |
| | |
N11-L001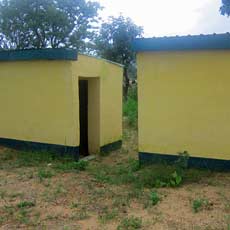 New Completed Washroom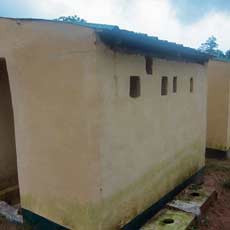 Side View of Washroom
The People of Akun School, Nigeria, thank

Nancy & Greg Hunt (Fort Coulonge, QC)
Anonymous (AB)
For helping them build a community washroom
Testimonial
To whom it may concern, The primary school in Akunza hereby wishes to express our gratitude to all of you for building the toilets for both boys and girls. This demonstrates the concern you all have for the health and growth of our children in this school. The school is out of session till next month when the students will resume. I am sure it will be a surprise to see this toilets when they come4 back. We will ensure its use so that the purpose for building this will be achieved. I will pass the information to the school Head teacher. Thank you again for contributing to the development of this school. Abdulkadir Tanko For Akunza Primary school PTA.
Project Summary
The location of this washroom is Akun in Nasarawa state, Eggon Chiefdom. This washroom is located within the village primary school that serves both boys on the one side and girls on the other side. The kids would normally ease themselves in the open behind the bushes around the school.

Every $1 you give provides a child with safe water for a year!
457 Heather Crescent
Thunder Bay, ON P7E 5L1
Canada
Tel:
+1 807-622-4848
Email:
info@lifewater.ca

Copyright © 2018. All rights reserved.