| | |
| --- | --- |
| | |
L18-E006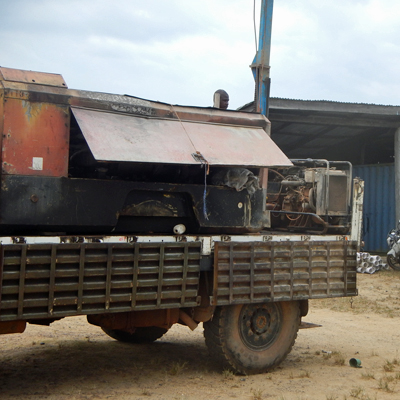 Drill Rig Compressor
The drill team in Liberia thank

Bram & Jennifer Drost (Thunder Bay, ON)
The Blossom Foundation (Toronto, ON)
For building their capacity with LS350 Drill Rig Compressor#2
Testimonial
Dear Sir and Madame:
As you probably know, a compressor is the muscle that enables us to drill wells in rock. They are very expensive here in Liberia and so we have always only had 1. When the compressor breaks down, we cannot drill. Many of the parts are not available here in Liberia, and we sometimes have to wait many months to ship in from Canada or the USA what is needed to make it work again. This is a lot of time for us to be sitting down. Besides having small paycheck while we sit, it is frustrating to not be able to drill the wells that the people need and are looking forward to.
With this air compressor that you have provided we now have for the first time a back up machine. When the one is broken and off for repair we can continue to drill with the one that you have provided. Because of this many people will get safe water every year who would otherwise would be waiting for the machine to be fixed.
Your gift is bringing safe water and encouragement to us all here in Liberia. Thank you so much.
Project Summary
The unit produces 150 pounds per square inch air pressure. This air pressure causes the air hammer to drive the bit up and down dozens of times per second allowing the bit's diamond cutting teeth to cut into hard rock.
The unit produces 350 cubic feet per second air flow. The air flow then carries the cuttings up and out of the borehole.

Every $1 you give provides a child with safe water for a year!
457 Heather Crescent
Thunder Bay, ON P7E 5L1
Canada
Tel:
+1 807-622-4848
Email:
info@lifewater.ca

Copyright © 2018. All rights reserved.