L16-P003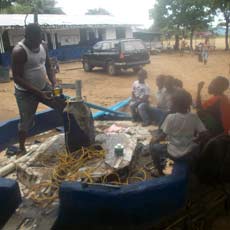 Repairing Pump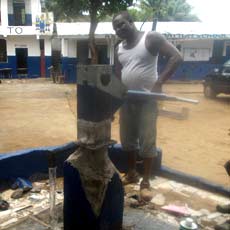 Pumping Water again!
The People of Liberia thank

Water of Life Project (Truro, NS)
For helping them repair dozens of broken pumps
during the month of October, 2015
Testimonial
Dear Sponsor, We are very pleased and thankful for the many villages that have safe water flowing from their wells again. We feel the joy of the Lord, as we respond to the calls of the people to have us come to do repairs to their broken hand pumps. A repaired pump gives life saving water and also restores great hope in the hearts of the people. Thank you ! Lifewater Liberia Inc. Pump repair Team
Project Summary
Lifewater Liberia Inc. Pump Repair Team continues to provide service and repair to existing pumps within the communities of Liberia.

Every $1 you give provides a child with safe water for a year!
457 Heather Crescent
Thunder Bay, ON P7E 5L1
Canada
Tel:
+1 807-622-4848
Email:
info@lifewater.ca

Copyright © 2018. All rights reserved.