H16-P002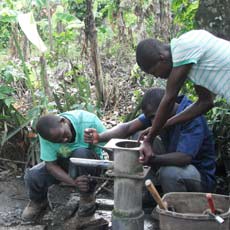 Repair Team at work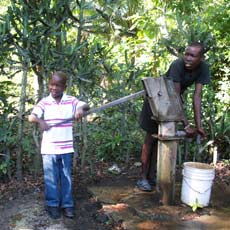 Pump repaired
The People of Haiti thank

Access Traders Inc. (Calgary, AB)
For helping them repair dozens of broken pumps
during the month of July, 2015
Testimonial
Dear Sponsor & Lifewater d'Haiti Thank you very much for repairing the pump in our community. The fearful thoughts were overwhelming when the pump wasn't working, memories came back quickly reminding us of what it was like without a well. We are so very grateful to have safe drinking water available again. Thank you & God Bless
Project Summary
For the month of July 2015 - 70 repairs on broken hand pumps were completed in several Hatien Villages. Water is flowing freely again and the people of each village are very grateful!

Every $1 you give provides a child with safe water for a year!
457 Heather Crescent
Thunder Bay, ON P7E 5L1
Canada
Tel:
+1 807-622-4848
Email:
info@lifewater.ca

Copyright © 2018. All rights reserved.