L14-P009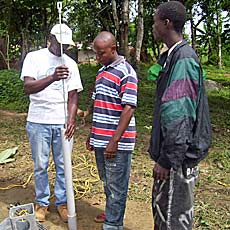 Repairing Afridev Pump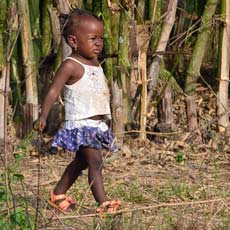 Village Child
The People of Liberia thank

Sonya Clark (Duchess, AB)
Andrew Rak (Duchess, AB)
For helping them repair dozens of broken pumps
during the month of July & August, 2014
Testimonial
Dear Sir:
We count it a privilege to carry out this task. The people these wells service have on the whole been very receptive to our visit, receiving the extra training and instruction in pump maintenance and assistance with changing worn bearings and testing the well water to ensure its safety. Together we would like to thank those who have made this work possible. It is a common theme in our trips that these wells have improved health, made life easier and safer for everyone who draws water from them.. We give the Lord praise and thanks as well. L-Linc Repair Team
Project Summary
In spite of the threat that Ebola has posed, Lifewater Liberia has visited 22 villages to assess, test and do any needed maintenance on their handpumps.

Every $1 you give provides a child with safe water for a year!
457 Heather Crescent
Thunder Bay, ON P7E 5L1
Canada
Tel:
+1 807-622-4848
Email:
info@lifewater.ca

Copyright © 2018. All rights reserved.