| | |
| --- | --- |
| | |
L14-P005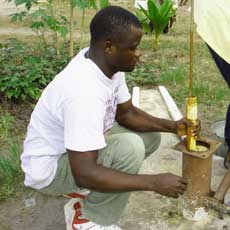 Repairing Old Pump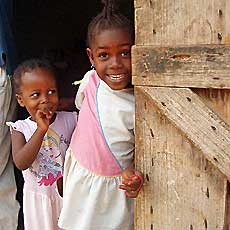 Village Children
The People of Liberia thank

anonymous
Egbert & Anne Breukelman (Rosslyn, ON)
For helping them repair dozens of broken pumps
during the month of April, 2014
Testimonial
Dear Sir/Madame We are grateful for the support to go out to repair the handpumps that were having some issues. It's a well received ministry and we are excited to be able to so easily restore a village water supply. Thanks comes to you from every village that we visited. The people were once again encouraged to call us when there is a problem and we spent time with each caretaker to help train them to care for their handpump in a better way. Thank you so much for your help and we ask teh Good Lord to bless you and keep you strong. Lifewater Liberia Pump Repair Team
Project Summary
In this month, the repair team were able to visit 10 village wells to make repairs and get the wells up and running again. Some repairs were fairly simple, such as replaceing the O-Rings, others more complex and one pump had been tampered with a large plastic bag stuffed up the spout and the handle loosened. These wells were chlorinated and tested to ensure the water quality was fine.

Every $1 you give provides a child with safe water for a year!
457 Heather Crescent
Thunder Bay, ON P7E 5L1
Canada
Tel:
+1 807-622-4848
Email:
info@lifewater.ca

Copyright © 2018. All rights reserved.