| | |
| --- | --- |
| | |
N14-L001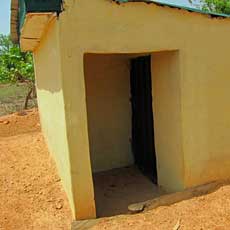 New Village Washroom
The People of Kyauro Village, Nigeria, thank

Insitu Contractors (Guelph, ON)
John & Charlotte Wiens (Richmond, BC)
In memory of Arno Ekkert
For helping them build a community washroom
Testimonial
Dear Sir, The community of Kyauro in Toto local government is here wish to express our thanks to your foundation for the construction of a toilet building near the Kyauro LGA primary school. We are very happy that your organization has chosen to associate with our community in this manner. Thank you very much, and we also extend our appreciation to all those who have contributed to make this toilet a reality for the children of the primary school. We want to pledge our commitment to you whenever it is needed as you seek to serve the people of this community. God bless, Mr. Ojiri Osanga Kyauro Development committee.
Project Summary
The location of this washroom is next to the local primary school in the outskirts of the village. We have promised to return to do the well in the future.
Well Details
| | |
| --- | --- |
| Project Completed: 2013-09-29 | Well Depth: 0 ft. |
| Depth of Water: 0.00 ft. | Casing Diameter: 0.00 in. |
| Screen Length: 0.00 ft. | Developed By: |
| Development Time: | Well Yield: |
| Disinfection: | Handpump: |
| Water Colour: | Water Odour: |
| Turbidity: | Taste: |
| Nitrate: | Bacti Test: |
| Iron: | pH: |

Every $1 you give provides a child with safe water for a year!
457 Heather Crescent
Thunder Bay, ON P7E 5L1
Canada
Tel:
+1 807-622-4848
Email:
info@lifewater.ca

Copyright © 2018. All rights reserved.