| | |
| --- | --- |
| | |
N13-L001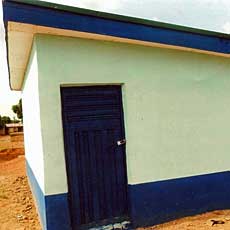 New Village Washroom
The People of Dogon Fili Community, Nigeria, thank

Fifth Dimension LLC (Jacksonville, FL)
For helping them build a community washroom
Testimonial
Letter of Thanks for two projects[ a well and latrine] in Dogon Fili community. We use this medium to express our profound appreciation to all of you who came here to be such a blessing to our people. Our experience with your workers and the way they related to our people was a thing of joy. For those who gave their finances and time to see this work through, we are most grateful. As promised, this one well and toilet will be well taken care of, and you can visit in the future to see this commitment. We have received these gifts as a trust from your group and will treat them as such. Once again thank you and please extend our deepest gratitude to everyone who made these projects possible for our people to enjoy. God bless, Haroun Sule Dogonn Fili town committee.
Project Summary
This washroom is not far from the village market. The people received the team with joy as we also did a hand pump for the same community of about 350 people. They helped in both the digging of the septic system and helped haul water for the erecting the building. Hole Length (ft): 1.5 Hole Depth (ft):45 Hole Width (ft): 1 Building Structure made of: Cement bricks Sides Lined with: Concrete Cement paved

Every $1 you give provides a child with safe water for a year!
457 Heather Crescent
Thunder Bay, ON P7E 5L1
Canada
Tel:
+1 807-622-4848
Email:
info@lifewater.ca

Copyright © 2018. All rights reserved.