L13-L001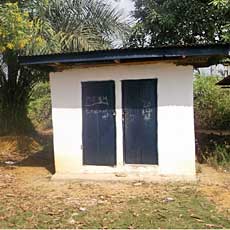 New Village Washroom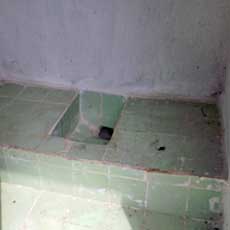 Inside of New Washroom
The People of Christian Community School, Liberia, thank

Frederick Abboud & Wanda Clarke (Greely, ON)
For helping them build a community washroom
Testimonial
Dear Lifeater: The Administration of Christian Community School extends thanks and apreciation to you for your time taken to construct for them a latrine on its campus. We look forward to working with you in the future. Signed Pride O. Brooks Acting Principle of Christian Community School
Project Summary
A Health & Hygiene workshop was held in this community earlier in preparation for the construction of this new facility. 34 Participants attended. The latrine is constructed over a hole that is 8 feet long by 4 feet wide by 10 feet deep with the sides lined with 6'' concrete blocks and the building with 4'' concrete blocks. A Caretaker was trained and put in charge of keeping the washroom clean etc.

Every $1 you give provides a child with safe water for a year!
457 Heather Crescent
Thunder Bay, ON P7E 5L1
Canada
Tel:
+1 807-622-4848
Email:
info@lifewater.ca

Copyright © 2018. All rights reserved.